Premier Midwest Hardwood Veneer Manufacturer
When Russell T. (Bud) Miller founded Miller Veneers in 1929, he worked hard to establish his company as a premier manufacturer of the highest quality hardwood veneers.
In the decades since, we have been committed to developing our grandfather's vision and maintaining our niche as a producer of hardwood veneers that bring high value to our customers. Through the efforts of our dedicated employees, the support of our loyal customers, and the innovative leadership of our management team we strive to be the best.
Miller Veneers is now in its third generation and we continue to be devoted to our customers, our employees, and our future.
Come visit us to see how we put these words into practice!
Tom, Ben, Sally
3rd Generation Owners
Miller Veneers, Inc.
About Miller Veneers
North American Hardwood Veneer Since 1929
Since the beginning, it has been the goal of Miller Veneers to produce consistently high quality hardwood face veneers.
At Miller Veneers, our focus has been on quality rather than volume and has led to our success as a proficient manufacturer in the veneer industry. There are several steps in the production of hardwood veneers and each of those steps depend upon the individual efforts and commitment of our employees in order to achieve this goal. We believe that the attention and time that we put into the manufacturing process adds value to our veneer for our customers.
Our business philosophy is exemplified in 5 essential ideals:
Stability
With over 80 years in business and three generations of family leadership, it's clear we're in it for the long term. It is this long-term focus that helps create a stable environment for both our employees and customers alike. Infrequent turnover among our employees creates an invaluable level of expertise, which in turn results in a higher quality product. The same can be said of our sales and administrative staff as well – the people you talk to today are the same people you'll talk to for a long time to come.
Quality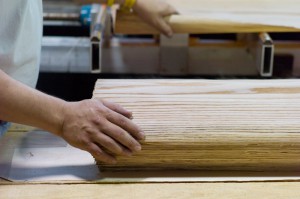 Quality is one of the cornerstones of our business. At Miller Veneers, quality begins with people, because it is the technical knowledge, experience, and craft of people that enable us to produce high-quality hardwood veneer. We believe that our smaller size allows us to provide a supportive and responsive workplace, which allows for the promotion and development of our employees.
But we don't stop there. We have developed our unique quality control program, which allows us to monitor our production on each and every flitch that we slice. We are the only veneer manufacturer who has made this investment in developing and implementing such a stringent process.
Innovation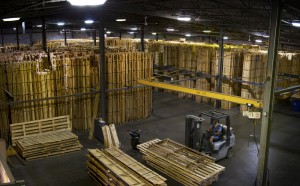 The basic manufacturing process has not changed much since production evolved from sawn to sliced veneers. But just as new technology has touched all of our lives, it has also changed what our customers want and need in the veneers that they buy. For example, improvements have led to using thinner veneers, which require more exacting production on our part. Miller Veneers has developed improvements in production that allow for more precision and higher standards and we inspect and measure the thickness of each flitch that we produce. At Miller Veneers we are continuously evaluating what we do and how we can do it better. Our quality control program allows us to evaluate innovations in our process in order to improve our veneers. It is for this reason that we have placed innovation as another cornerstone of our business.
Teamwork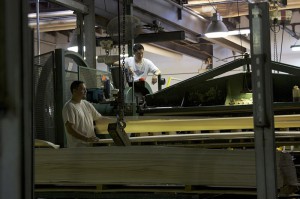 We believe that business is all about strong relationships – with our customers, our employees, and our suppliers. We are here for the long run and this requires taking a long view. Teamwork requires integrity and commitment and this has become yet another cornerstone of our business.
A relationship will only last so long as it is of benefit to all of those involved. We understand this truth and so it is important to us to understand our customers' needs in order to work towards successful solutions.
Integrity
The success of Miller Veneers is based on the simple fact that our customers have made the choice to purchase their hardwood veneers from our company rather than our competition. It is with this understanding that we work hard to understand our customers' needs and assure that every interaction with us yields positive results for our customers. We want our customers to continue to buy from us again and again.
Moreover, we want our product to be counted as an asset by our customers; therefore we stand behind our product with a 100% guarantee.
As a third generation family-owned business, ensuring the future of our business is an objective that is deeply ingrained in each of us. We direct our efforts toward developing and maintaining long-term relationships with employees and customers.
Veneer Species
The Finest North American Hardwood Veneers
Miller Veneers specializes in North American Hardwood
species, including:
We can offer these species in different thicknesses and different types of cut. We work with our customers to find the best product to meet their specifications. Contact us to discuss your current needs.
Veneer Sales: Brad Smitheram, 317 638-2326
Log Sales
North American Hardwood Logs
IT IS NO SECRET THAT IN ORDER TO PRODUCE HIGH QUALITY VENEER, YOU HAVE TO START WITH HIGH QUALITY LOGS.
Our buyers live and work in the regions with the best access to each species. Miller Veneers depends upon their specialized knowledge and their longstanding relationships with landowners and log suppliers in order to consistently procure top quality logs.
We leverage these same advantages in purchasing logs for our veneer as we do for our selection of logs for log sale.
We specialize in North American hardwood logs, including alder, birch, cherry, hickory, maple, poplar, red oak, walnut and white oak.
Contact us for more information about our current log inventory and to discuss how we can help you fulfill your log buying requirements.
Videos
More Consistency, Higher Yield, Better Value
We believe that the attention and time we put into the manufacturing process adds value to our veneer.
See what drives our team to deliver consistently high quality veneer and better value for our customers.
Delivering on Expectations
Contact Us
Miller Veneers
3724 East 13th Street
Indianapolis, IN 46201
Map
Phone: 317 638-2326
Hours: 7:30am – 4:30pm EST
Fax: 317 634-0555
Veneer Sales:
317 638-2326